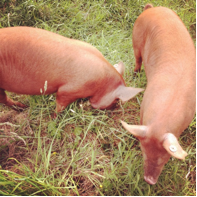 This week I am on another trip to the abattoir with our lovely Tamworths.
To date, I have had little or no problems with loading them into the trailer and driving them to the abattoir.  Our pigs are always relaxed in my company and why wouldn't they be.  They have known me since they were born and I have been feeding them every day.  We have grown to know each other quite well and this is what farming is essentially all about.
They do have their moments, but don't we all.
Quality meat and pork in this instance, is all about the husbandry of the animal which essentially is taking good care of the animal from birth right through.  The less stressed and well cared for any animal is the better the meat will be.
On arrival at the abattoir, I am met by Stephen, the abattoir owner who knows me and my pigs and Stephen is very experienced with pigs and always off loads them with ease.
I am always a little sad to see them go (as Garrett and the boys are). However, when we collect the quality pork, our hard efforts are always definitely worthwhile.
Fiona
First published on our original website and re-shared here for our new customers!