In 2015 we were delighted to introduce yet another new innovation to the Garrett's product range, this time inspired by our passion for nutritious food for kids.
Garrett's Gobblers, our new healthy foods, are created especially for your little ones and are nutritionally balanced, low in saturated fat and low in salt. This new innovative range is approved by dietitian Aoife Hearne from RTÉ's 'Operation Transformation'. We worked with Aoife to develop a range of 14 different products that went on sale in both our stores and online in May 2016.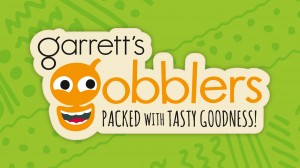 Some of the delicious options in the range include: Crumbed Chicken Gobblers with Paprika Marinade, Crumbed Beef Gobblers with Garlic Marinade, Chicken Goujons with Mild Curry Marinade and Crumbed Pork Gobblers with Tikka Marinade. The reaction so far in our stores has been hugely positive from both the little ones and their satisfied parents!
The official launch of the expanded Garrett's Gobblers range took place on Saturday 14th May 2016 and was a huge celebration party for all the family. Check out our Facebook page for pictures from the day.